Giving up sugar is tough, but knowing its negative effects on health is worth the change. Sugar Match, the market leading No Calorie Sweetener, will help you easily shift from sugar towards a healthier lifestyle.

Stay slim and fit, lose weight, lessen the risk of obesity, and reduce dental caries with Sugar Match, the safest alternative to sugar with no after taste. Sweeten all your hot and cold drinks, milk shakes, juices, yogurt, cereals, fruit salads and the like without missing the real sugar taste. Diabetics can easily enjoy sweet and tasty food and drinks to satisfy their sugar crave.

Sugar Match is made of Aspartame which is recommended by all dieticians, registered by the Egyptian Ministry of Health, approved by FDA, WHO, EFSA and all International regulatory bodies.
Aspartame is used in more than 6000 products worldwide. These products include soft drinks of major international companies such as Pepsi and Coca-Cola. It is also used in juices, gum, sweets, jelly, pudding, ice cream, sugar substitutes, and some medicines such as vitamins and sugar-free cough medicines. Aspartame is also added to many of the foods we eat on a daily basis, such as cornflakes, yogurt, dairy products, sweets and jams. It is also commonly used as a substitute for sugar in hot drinks and juices. Over the course of more than 40 years, scientists and lawmakers have conducted more than 200 scientific studies on aspartame, all of which have reached the same conclusion: "Aspartame is completely safe to use." In fact, when the US Food and Drug Administration (FDA) authorized the use of aspartame, the FDA official commented as follows: "Very few compounds, including aspartame, have undergone and withstood many rigorous and detailed tests and processes that aspartame has undergone, confirming complete confidence in the safety of aspartame use. Recently, on December 10, 2013, the European Food Safety Authority (EFSA) issued its decision after it carried out a complete and comprehensive reassessment of the safety of aspartame, which stated that it was "absolutely safe". http://www.efsa.europa.eu/en/press/news/131210.html In addition to the approval of the US Food and Drug Administration (FDA) and the European Food Safety Authority (EFSA), many other legislative bodies have confirmed the safety of the use of aspartame, such as the Food and Agriculture Organization (FAO), the Joint Committee of Experts on Food Additives (JECFA), the Scientific Committee on Food (SCF) and the World Health Organization (WHO), the Egyptian Ministry of Health and many legislative bodies in 184 countries around the world. Many scientific bodies have also recommended the use of aspartame, such as the American Medical Association, the Medical Association for Diabetics, the Medical Academy for Pediatric Nutrition, the American Dental Association, and the Medical Association for the Study of Obesity Diseases in Egypt. The Acceptable Daily Intake (ADI) is the amount that can be consumed daily from any food for life and is set by the US Food and Drug Administration (FDA) and the European Food Safety Authority (EFSA). The Acceptable Daily Intake (ADI) of aspartame is 40 mg / kg of body weight, which is equivalent to 80 bags of Sugar Match (2 Spoons) or 160 bags of Sugar Match (1 spoon) per day. It is also equivalent to consuming 40 packs of low-calorie food drinks (diet) consumed daily by a person weighing approximately 70 kg, or the equivalent of 40 cups of tea or coffee or any sweet drink, equivalent to 2 tablespoons of sugar match per day. It is worth noting that the most people who consume aspartame consume it at an average Less than 10% of the daily allowance.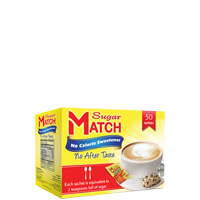 Sugar Match 50 Sachets
Sugar Match 75 Sachets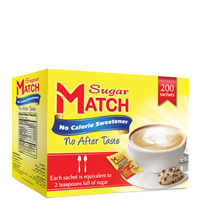 Sugar Match 200 Sachets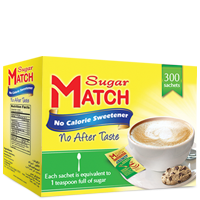 Sugar Match 300 Sachets
---
For Questions and Answers
---
Sugar Match - sucralose
Sugar Match Sucralose is a zero-calorie sweetener that contains Sucralose, which is a no calorie sweetener that is used all around the world in more than 5,000 food and beverage products.
Sugar Match Sucralose helps people who need to stay slim and fit to enjoy eating sweets while reducing the number of calories or the amount of sugar in their diet. It is also the ideal choice for people who suffer from Diabetes as it does not elevate the blood sugar level. It also does not promote tooth decay.
Sugar Match Sucralose is the perfect choice in making sweets and baked goods with less calories for a healthy lifestyle because of its unique taste that is similar to sugar while retaining its sweetness at high temperatures. It is also used in all hot and cold drinks, juices, yogurt and corn flakes.
Sucralose is completely safe, based on many researches and scientific studies over the past 20 years. Sucralose enters and exits the body as it is and is not metabolized in the body and does not provide the body with any calories. The safety of Sucralose has been considered by leading medical, scientific and regulatory authorities around the world including:
The US Food and Drug Administration (FDA)
The European Food Safety Authority (EFSA)
Health Canada
Food Standards Australia/New Zealand
Japanese Food Sanitation Council
The Joint (Food and Agriculture Organization/World Health Organization) Expert Committee on Food Additives (JECFA) and approved the Acceptable Daily Intake (ADI) to be 0-15 mg/kg bw that is equivalent to:
50 sachets daily from Sugar Match Sucarlose 2 spoons.
75 sachets daily from Sugar Match Sucarlose 1 spoon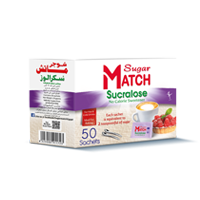 sugar match sucralose 50 sachets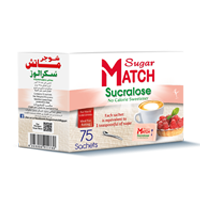 sugar match sucralose 75 sachets