Giving up sugar is tough, but knowing its negative effects on health is worth the change. Sugar Match, the market leading No Calorie Sweetener, will help you easily shift from sugar towards a healthier lifestyle.

Stay slim and fit, lose weight, lessen the risk of obesity, and reduce dental caries with Sugar Match, the safest alternative to sugar with no after taste. Sweeten all your hot and cold drinks, milk shakes, juices, yoghurt, cereals, fruit salads and the like without missing the real sugar taste. Diabetics can easily enjoy sweet and tasty food and drinks to satisfy their sugar crave.

Sugar Match is made of Aspartame which is recommended by all dieticians, registered by the Egyptian Ministry of Health, approved by FDA, WHO, EFSA and all International regulatory bodies.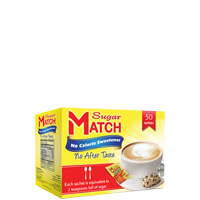 Sugar Match 50 Sachets
Sugar Match 75 Sachets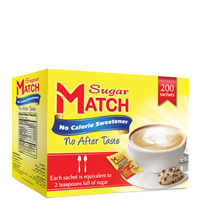 Sugar Match 200 Sachets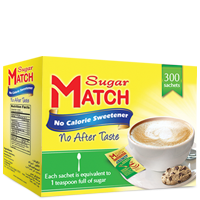 Sugar Match 300 Sachets
Sugar Match Sucralose is a zero-calorie sweetener that contains Sucralose, which is a no calorie sweetener that is used all around the world in more than 5,000 food and beverage products.
Sugar Match Sucralose helps people who need to stay slim and fit to enjoy eating sweets while reducing the number of calories or the amount of sugar in their diet. It is also the ideal choice for people who suffer from Diabetes as it does not elevate the blood sugar level. It also does not promote tooth decay.
Sugar Match Sucralose is the perfect choice in making sweets and baked goods with less calories for a healthy lifestyle because of its unique taste that is similar to sugar while retaining its sweetness at high temperatures. It is also used in all hot and cold drinks, juices, yogurt and corn flakes.
Sucralose is completely safe, based on many researches and scientific studies over the past 20 years. Sucralose enters and exits the body as it is and is not metabolized in the body and does not provide the body with any calories. The safety of Sucralose has been considered by leading medical, scientific and regulatory authorities around the world including:
The US Food and Drug Administration (FDA)
The European Food Safety Authority (EFSA)
Health Canada
Food Standards Australia/New Zealand
Japanese Food Sanitation Council
The Joint (Food and Agriculture Organization/World Health Organization) Expert Committee on Food Additives (JECFA) and approved the Acceptable Daily Intake (ADI) to be 0-15 mg/kg bw that is equivalent to:
40 sachets daily from Sugar Match Sucarlose 2 spoons.
80 sachets daily from Sugar Match Sucarlose 1 spoon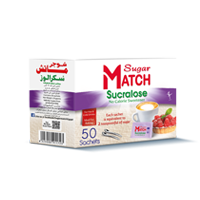 sugar match sucralose 50 sachets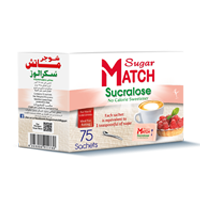 sugar match sucralose 75 sachets