A carefully selected salted blend of spices and herbs that adds a delicious natural taste to chicken, meat, eggs, beans, salad, fries, pasta and rice. It amazingly boosts every dish. For the spicy taste lovers, try the Sprinkle Hot All Purpose seasoning, it will make your lips swell.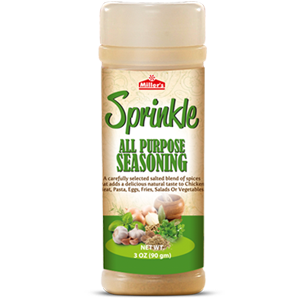 Sprinkle Original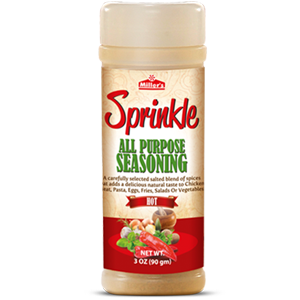 Sprinkle Hot
Surprise your family and kids and provide them with their favorite flavor on your homemade fries, popcorn, salads, noodles, eggs, dips, etc. Just sprinkle your favorite flavor on your dishes or use it while cooking.
Choose from Paprika Flavor with its sweet pepper flavor and the smokey aroma without the heat, Pizza Flavor to get the real Italian pizza taste that everyone loves or the amazing oriental Kabab Flavor.
For Spicy taste lovers, select between the Chili & Lemon flavor, Jalapeno flavor or Mexican Cheese flavor. They will satisfy your taste buds.
Return to the taste of old times with the tomato flavor or try the cream cheese with its fresh, soft mild tasting that adds a lovable aroma to your food.